When it became clear that I would homeschool my children, toward the end of February 2012, I looked for the best homeschool magazine. I found three and could not pick one, so I subscribed to all of them: "Practical Homeschooling Magazine," "Homeschool Enrichment Magazine" and "The Old Schoolhouse Magazine."
After almost two years of trying them out, I decided that they all have great content, but:
1. I don't want to take the time to read three homeschool magazines,
2. Paper magazines clutter my house, and
3. Free is better than paid.
And the winner is – drum roll please – "The Old Schoolhouse Magazine" or TOS for short. Here's the vendor website where you can sign up for it.

You see, the other two, as great as they are, come in a paper format – like, one must walk to one's mailbox to get them. Also, one pays for them. So 20th century.
"The Old Schoolhouse Magazine," on the other hand, is free, digital, and contains 177 pages, chock-full of homeschooling tips (as opposed to 50 pages in the aforementioned paid, paper magazines). I read TOS on my laptop, or on my tablet, or on my smartphone. I get an email when the latest issue is available. I click on the link and voilà: magazine. Did I mention it is free?
Let's look at "The Old Schoolhouse Magazine" November-December 2013 issue and you will see how many benefits one receives from being subscribed to a free digital homeschooling magazine. For the TOS app, click here.
For starters, the cover of every issue shows an old school building (the old schoolhouse… get it?) from somewhere in the United States. The first page tells the story behind the picture, which a homeschooling mom could easily use for a quick geography and history lesson with the kids.
Different sections of the magazine clearly spell out what each article tackles, which is helpful. "The Informed Homeschooler" covers current events which can affect our homeschooling rights and methods. "The Unit Study Homeschooler" will attract those homeschooling moms who have made unit studies work for them.
"The Classical Homeschooler" caters to those who feel inclined towards a classical education at home. "The Tech Homeschooler" reviews the latest gadgets or educational software. "The Littlest Homeschooler" dishes out advice on how to homeschool with preschoolers underfoot. You get the idea.
Another section of the magazine, peppered throughout for variety, is "Academic Spotlight." In the November/December 2013 issue of "The Old Schoolhouse Magazine," they focused on music and phonics/reading.
Personally, I find that I read most of the magazine, but not all of it. For instance, I am not much of a unit study homeschooler, so I will probably not read an article about unit studies. However, I will read about classical education, art, music, legal issues, current events, organizing, and college prep.
I also read most ads. If they made this magazine, those products must be good. Ads also contain hyperlinks which take you straight to their website for more information. How convenient!
Reading the TOS magazine takes me several evenings. After putting the kids to bed, I curl up with my laptop and read whatever fits best. Do I need a little spiritual perspective? I turn to "His Joyful Homeschooler" – a devotional section – or to the Editorial. Do I want a little inspiration from others? "Show and Tell" will do the trick.
I love how interactive reading "The Old Schoolhouse Magazine" feels. Some of the writers are bloggers and one can leave a comment on their blog with a mouse click. Now that's the 21st century.
For more fun, exciting and, oh yes, useful reviews, please visit the Schoolhouse Review Crew website.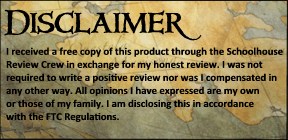 Please follow and like us: