An integral part of our homeschool, car schooling includes listening to music, stories, audio books or audio drama in the car, on the way to appointments and classes outside the home. Recent additions to our car school curriculum, My Name is Handel: The Story of Water Music and Mike Mulligan and His Steam Shovel are produced by Maestro Classics.
The conductor, his wife and one of their sons all worked on producing this story CD, alongside famous musicians and narrators. When it comes to CDs for children, I am rather picky. So many of them feature rhythms that make the kids want to shake their behinds.
If you, like me, would like to train your children's musical taste buds to appreciate classical music, you will want to check out this series. The stories keep their attention while the classical music is woven throughout the CD. The CDs expose their minds to vocabulary, concepts and stories beyond just classical music.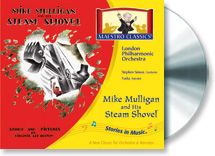 I read Mike Mulligan and His Steam Shovel to my children about a year ago.
When I brought out the CD out, they did not know what to think. Was it a movie? No. Where can they see pictures? No pictures. We just listen to the story. But why is there music? The music threw them off.
I persevered.
After a few paragraphs, they got into it. So much so, that they asked to hear it over and over again. They like to dig like Mary Ann, faster and faster, as the story progresses and the music picks up.
After listening to it four times, over a few days, my son started saying things like, "I really like the music, mama." Bull's-eye!
The CD booklet has several activities which enhance the learning process: a puzzle, a maze, a mirror word game, etc. My son loved finding out the words. It's the first time he solved a cross-word puzzle, so this is one for the books.
My Name is Handel: The Story of Water Music was a bit harder to introduce to my children. I was surprised, because they like listening to Handel's Messiah. I was expecting them to perk up at the mention of Handel's name. But, again, I worked with their reluctance and gently asked them to listen to it.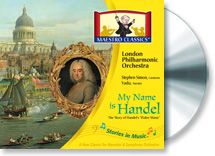 My daughter is four and loves princesses, so when she heard them mention a king, she started paying attention. Isn't that always the case?
We must link new information to their existing database of knowledge.
Then, when they see a connection, they are more willing to work with the new concept.
I think the story is really cute, how Handel, ever the showman, managed to weasel himself back into the king's heart with Water Music. The more modern story about Handel's living in England (I won't give it away, you will have to get the CD and enjoy it firsthand) is even more intriguing. I never knew about that other theory.
All this to say I, too, learned a lot from listening to it, besides enjoying the music.
Their website also produces free curriculum guides as companions for their CD series. Definitely worth looking into. You might have to adapt some of the activities based on your children's ages and philosophy of education, of course. But you have a whole FREE unit study for each CD, with history, art, music, geography, science, language arts, and math.
The CDs cost $16.98 for the CD (plus shipping) and $9.98 for the MP3 download. Considering their quality and how much learning you get out of them, I think they are reasonably priced. I have always said that our children's education is worth every penny.
The ideal age range for Mike Mulligan is 4+, while the ideal range for Handel is 5+. I can see how my four-year-old lags behind in appreciating them. My six-year-old got into Mike Mulligan after some coaxing, but now he loves it.
In order to stir more interest into My Name is Handel and Water Music, I did some of the activities suggested and the kids enjoyed playing with water and boats, guessing what will sink and what will float, and looking at pictures of royalty. We learned about the Panama Canal, the Industrial Revolution and the steam engine. My son, a budding engineer, loved every moment of it. We colored pictures of a steam shovel.
If you are looking for classical music for children, look no further. This CD series will help your kids appreciate classical music and learn so much more besides.

Connect with Maestro Classics on
Facebook and Pinterest.

Please follow and like us: